This deal has expired and may no longer be valid.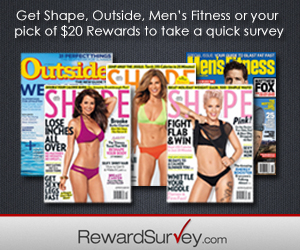 Complete a brief survey to earn up to two free magazine subscriptions from RewardSurvey.com. After you complete the survey, you'll receive $20 in Rewards that can be used toward a selection of $10 or $20 magazine rewards (so you could potentially use your rewards for two $10 subscriptions).
I've also rounded up other free magazine subscriptions we know of right now:
— free subscription to  Electronic House  from FreeBizMag (exp 1/22)
— free subscription to  Automobile  from FreeBizMag (exp 1/24)
— other free subscriptions from  FreeBizMag  (click "Special Deals")
Super Street
Practical Horseman
The Red Bulletin
Working Mother
Tennis
Better Homes & Gardens
Watch!
— free subscriptions from  RewardsGold
Forbes
Afar
Latina
Martha Stewart Living
Golf Week
Outside
The Economist
and more!
— free subscription to  American Photo  from Mercury Magazines
— free issue of  Islands  from ValueMags
Your turn: What's your favorite magazine that you currently get for free?